For many people, photos without phrases for Instagram are like books without a title. True, Instagram was born as a place to share photos, but nowadays, with so many people sharing beautiful photos, a good phrase that accompanies it makes a big difference.
Surely, you ended up here because you're looking for inspiration. You realized that having the perfect photo seems not enough to attract attention.
A good phrase to accompany the image will help you attract more interaction and connect you more with your Insta-family!
I know, finding the words is not always easy. It is also true, sometimes it is more effective to simply create curiosity to attract attention. For that reason, I have compiled these phrases for Instagram that will make people get imprisoned not only by your images.
Here phrases for your Instagram profile
• They say that it is always good to attract attention with a short phrase, and on Instagram, it is doubly true, because only a few lines appear under the photo …
• Anyway, I urge you to always speak from your heart.
• At the end of the day, we all want to know who is behind that Instagram profile that we follow.
While you find yourself and your voice, here I leave you the best phrases for Instagram divided by themes. You can access them directly by clicking or simply continue reading …
Phrases Instagram of life

Funny Instagram phrases

Instagram of friends Phrases

Instagram love Phrases

Instagram about success Phrases

Instagram of songs Phrases

Instagram of rap Phrases

Movie phrases Instagram
These phrases can also be used for your WhatsApp status, Facebook … Some of these phrases can even help motivate you.
If you need motivating phrases directly, you can also read:
• 165 phrases that will help you be motivated
• Travel phrases that will inspire you to travel the world
Phrases Instagram of life
Almost everyone loves to read life phrases. It reminds us of many things, it makes us reflect, or it simply helps us to wake up. Do not forget the most important thing.
With the phrases that most identify you, do not forget to carry them out!
1. Everyone has their story. I am here to learn, not to judge.
2. However, short the road. Who stomps, leaves a mark!
3. Who you should challenge, impress, and overcome is yourself.
4. Living from appearances makes you a slave to others.
5. Sometimes we have to continue. As if nothing, as if nobody, like never.
6. The obstacles in life make us mature, success makes us reflect, and failures make us grow.
7. Life goes on, with or without you.
8. When you want something, the whole universe conspires to make your wish.
9. I want you to see more sunsets than Netflix series.
10. Do you take something to be happy? Yes, decisions.
11. To live longer we have to grow old.
12. Your body listens to everything your mind says. Be positive.
13. Continue smiling, because life is beautiful and there are many things to smile about.
14. Happiness is like the flu: a state that is transmitted, spread and spread.
15. And you will discover that waiting is not the best way to be free.
16. Be honest with the world (and with yourself), give your heart to those who know how to appreciate it and live each day as if it were the last.
17. A positive mentality helps you succeed, think well to live better.
18. There is no medicine that heals what does not cure happiness.
19. You have to look beyond what you see.
20. Judging a person does not define who she is. Define who you are
21. Do not call it a dream, call it plan
22. Melancholy is the happiness of being sad.
23. Show that you can do better selfies than me.
24. If you do not want much, even small things will seem great to you.
25. Escape from the ordinary
26. Plant your ideas.
27. Drama is waking up on a Sunday at 5:30 in the morning instead of lying down
28. Smile and not give a bad life for anyone, that's the attitude.
29. Happiness is a direction, not a place.
30. Live, fight, dream, travel. Repeat.
31. If you do not come, use the VE plan.
32. Life is not a problem to be solved but a reality to experience.
33.  Sitting silently, thinking it out loud.
34.  I am not telling you that it will be easy, I am telling you that it will be worth it.
35. This is not what it seems.
36. To live is to change, and to be perfect you must have changed frequently.
37. Do not count the days, make the days count.
38. Offline is a new luxury.
39. Who knows how to listen, hears when you say nothing
40. I am a calm person. The restless is my mind
41. If you do not try, you will never get it.
42. I do not know the key to success, but I know that the key to failure is to try to please everyone
43. Nobody belongs to us, except the memories.
44. You can not go back, but you can create a new ending.
45. Why criticize, if we know that we all have flaws and nobody is perfect?
46. Life is a tragedy in the foreground, but a comedy in general.
47. It is not necessary to see to believe but to believe to see.
48. A small positive change can change your whole day – or your whole life.
49. Be real in everything you do.
50. Change, albeit slowly, because the direction is more important than the speed.
51. After learning to think for myself, I never thought the same way as others.
Instagram Funny phrases
What better than humor to complete your photo of the day #photooftheday? Do not forget that Instagram there are hashtags. These are also important to connect and/or find what you are looking for.
For example, I use it a lot to find coffees. How? I'm looking for Coffee + city and I'm looking for. I have found several wonderful coffees this way.
Funny Instagram phrases have also helped me to add a little humor to my day to day favorites.
Here are a few phrases that will get you more than a smile.
52. When Instagram hung up, I spent the day screaming LIKE! to dogs, flowers, and lunches with delicious appearance.
53. I like hashtags because they look like waffles
54. All the women around me are Beyonce
55. Soup-rate!
56. What did he die of? He choked on the words he never said.
57. People who like food are always the best people.
58. Life is short. False: it is the longest thing you will do in your life.
59. Better to be late than ugly.
60. What do I do looking at the rain if it does not rain?
61. Weekend, do not leave me.
62. Can you imagine that you can eat without having to post it on Instagram?
63. I do not say it was the aliens, but it was the aliens …
64. Yes, going out to flirt is cool, but have you ever tried pizza?
65. The onions make me cry. Many people do not realize it.
66. I do not always study, but when I study, I do not.
67. No one said: One time I had a lot of fun, it was horrible.
68. Be the love of your life!
69. The others will follow your examples, not your advice …
70. Do I offend you with sincerity or do I lie to you for education?
71. I need six months of vacation twice a year.
72. Give me the chocolate and no one will be hurt.
73. I liked the memes before they were on Instagram.
74. Being happy is free. Be happy.
75. Curiosity killed the cat. But at least, he lived.
76. In a pool … Why not nothing? Because he did not bring a suit.
77. Ask for advice with beers, but decide better with water.
78. Home is where Wi-Fi connects automatically.
79. I suggest a dose of common sense and maturity!
80. I'm not clumsy, I'm affectionate, and I like to hug the floor when I ask.
80. Run and pursue your dreams. If you do not reach them, at least you will do sports.
81. I do not need your likes as approval.
82. Me rare? What's up, I'm one: Limited edition.
83. I'm not perfect. I make mistakes: But when I apologize … I ask for it from my heart.
84. I liked myself. Maybe a little thinner, with a few wrinkles less.
85. I want you to be so happy, that you do not know if you live or dream.
86. If you are going to cry, let it be because you laugh too much.
87. Eat to live and live to eat.
88. I am who I am, what I am, and I will not change for you. If you do not like it, do not like it and let me continue.
You can also play with images and phrases. For example, imagine this phrase with … a       fruit!
Note: If you want to have more likes, you must add a bikini
89. Everyone told me that I could become anything, so I decided to be appetizing
Phrases Instagram of friends
If you want to make a nod to your friends, you can also use phrases dedicated to them … Here I leave you a few sentences to send those subliminal messages or dedicate a few words to your chosen family.
90. Friendship is an individual soul that inhabits two bodies.
91. Good times and crazy friends build the most incredible moments.
92. Friendship is not something you learn at school. But if you have not learned the meaning
93. of friendship in school, you have not really learned anything.
94. Friends are the family that you choose.
95. Friendship doubles joys and divides anguish in half.
96. A true friend is someone who is there for you when you could be anywhere else.
97. Walking with a friend in the dark is better than walking alone in the light.
98. A friend is a person who knows everything about you and still likes you.
99. Being friends is like being soldiers in an army.
"They live together, they fight together and they die together"
99. The definition of a friend is someone who adores you even when he knows the things you are ashamed of.
100. Friends are like books. You do not need to have many, but the best ones.
101. Bad times bring good friends.
102. You are not a friend, you are a brother.
103. Before wanting to tear down an enemy, try to raise a friend.
104. Every morning I give thanks for having crossed paths with you
This is also a love phrase. If you want more love phrases, keep sliding.
105. Life is made for good friends and great adventures.
106. She's my: Partner In Crime
107. A friend is a gift that you give yourself
108. Good times + good friends = Unforgettable memories
109. Sometimes, spending that moment with your best friend is the therapy you need.
Instagram love Phrases
Declaring or sharing the love in networks has never been so easy. Gone are the personalized letters with the recognizable letter. You can send messages through a photo by adding a love phrase. Or simply distribute love in networks. Well, love is better if it is shared.
110. I'd rather be hated for what I am than loved for what I am not.
111. Wherever we go, with you it will be paradise.
112. And suddenly all the love songs talk about you.
113. Falling in love is like wanting to jump into the void:
Your mind tells you it's crazy, but your heart insists that you can fly.
114. With you, I forget all my problems.
115. Go with whoever makes you feel alive.
116. Wherever it is, however, but together.
117. If you have nothing to say, smile!
118. She was a clever girl who fell in love like an idiot.
119. The light of my life.
120. How much love can fit in a hug?
121. You are my tempest and my calm.
122. If love squeezes, it's not your size.
123. Our love has no expiration date.
124. If you can explain it, it does not love.
125. I am not what I write, I am what you feel when reading me.
126. Love is just a word. Until someone arrives to make sense of it.
127. You are my most sane madness.
128. Where some see only flowers, others see love stories.
129. Treat me like a joke and I'll leave you in the funniest way.
130. I only need 3 things to be happy:
131. Can you give me a kiss? I promise to return it to you.
132. Do not worry about the people of the past, there is a reason why they did not reach your future.
133. I like it when we are, well, plural.
134. I like you both inside and outside.
135. And from making her laugh, she ended up falling in love with her.
136. All I need is a little time and a lot of you.
137. This is a song lyric. Below you will find more song lyrics that you can use for your Instagram phrases.
138. If I ever write the book of my life, do not be surprised if your name appears a million times.
139. Do not look for me when I smile if you forget me when I cry.
140. The best way to close the past is not by escaping from it or by forgetting it, but by confronting and forgiving it.
141. Do not cry because it's over. Smile because it has happened.
142. I'm not perfect but I'm loyal.
143. No one deserves your tears, and whoever deserves them will never make you cry.
144. We have come to love not the perfect person but the person that we perfectly see even their imperfections.
145. You can not start the next chapter if you keep reading the previous one.
146. The heart should have the options: Delete a contact, erase history and solve the problem.
147. I never knew I had a dream until that dream was you.
148. I want to see you and my desire knows it.
149. Our bodies rhyme.
150. Travel to Mars or the next corner. But with you.
151. I want a summer love that lasts at least 50 winters.
152. My great love will always be you.
153. I love you. It is all that I know.
154. The first time I saw your smile, I knew that was the smile I always wanted to see when I woke up for the rest of my life.
155. Many times the heart sees what is invisible to the eye.
156. Love is, neither more nor less, what I feel by your side.
157. Every morning I give thanks for having crossed paths with you
This is also a phrase of friendship. Did you read them? If you did not do it, click here to read the phrases for friendship Instagram.
Instagram about Phrases success 
Many people also want to talk about Instagram success. Either to "sell" or "believe". Keep in mind that Instagram is not just a social platform. It is also a place where things are "sold", including illusions. So do not let yourself be influenced by what is not aligned with your way of thinking. And take advantage to get all the juice possible from social networks. The success of others can help you reach your own.
If you want more motivating phrases, I have compiled 156 phrases that help motivate.
193. Do not talk, act, say, teach, promise, show.
194. If one day you fall, do not worry, do as the sun: every evening falls but every morning rises with more radiance.
195. Never stop doing something good simply because no one can prove it.
196. It always seems impossible until it is done.
197. Be honest, even with yourself.
198. Invest now in the dreams of the future.
199. If you want to succeed, you must learn to fail.
200. If it does not tickle your belly, it's not a big enough challenge.
201. I did not come to the world simply to lose
Instagram Phrases for songs
One way to communicate that I love using on Instagram is song or movie phrases. When you use them, many people recognize the song, and the message also starts playing in your head.
It has also helped me discover new songs by singers and groups I did not know. Does it happen to you too?
In fact, many of the songs I've compiled in this list had not realized that they were lyrics until I saw them written on Instagram … Try sharing your favorite songs to see what happens. You may discover that other people also share your musical taste.
I leave here my list of traveling songs, to see if we also have the same taste.
202. At your side life feels better (Jarabe de Palo).
203. You only live once (The Strokes).
204. My excuse is that I'm young (DJ Khaled).
205. It's impossible to have 2 letters left over (Rosana).
206. Time is never lost (Manolo García).
207. Time is long, but life is short (Steve Wonder).
208. Cowardly loves do not reach loves, nor stories, they stay there (Silvio Rodriguez).
209. It is the desire to change reality, the ones that make me feel alive (Eros Ramazzotti).
210. "Twenty-four-hour champagne diet" (Birdman)
211. It is natural to look for others in the consolation we lack (Julieta Venegas).
212. I'm here for a good time not a long time (Big Sean).
213. Live for today, plan for tomorrow, party tonight (Drake).
214. Who cares what I do?
Who cares what I say?
I am like that, and so I will continue, I will never change (Alaska).
We started badly and I believed that this was a good plan (Mecano).
215. Wise men say that only fools hurry (Elvis Presley).
216. I do not wanna be alone forever, but I love gypsy life. (Lady Gaga).
217. There is a whisper where there was once a storm "(The Rolling Stones).
218. The living is the most dangerous thing in life (Alejandro Sanz).
219. I would love to love you a little less (Maná).
220. The sky is tired of seeing the rainfall (Shakira).
221. I have it decided, I do not need to think about it anymore, if I'm wrong it'll be fine, I do not need to look any further, this is love (Adele).
222. I bet you money that the Sun rises tomorrow (La Fuga).
223. And I think to myself, how wonderful the world is (Louis Armstrong).
224. Who would have thought that one day that has gone so bad would be so charming? (Bruno Mars)
225. As much as one wants and more difficult is when it comes to waiting, it is expected (Antonio Orozco).
226. It's only when I get lost in someone else, when I find myself in myself (Depeche Mode).
227. It is better to be hated for who you are than loved for what you are not (Kurt Cobain).
228. I still believe that there is hope for us (Les Miserables).
229. If you leave, would you take me with you? (Oasis).
230. Time all calm, tempest and calm (Baby).
231. I will listen to the silence to find the way (Marc Anthony).
232. The first human gesture is the hug (Calle 13).
233. I hope that when you jump do not fear the fall (One Republic).
234. In the end, we only regret the opportunities we did not take (Taylor Swift).
235. They say that time heals wounds, but mine have not healed (Adele).
236. The show must continue (Queen).
237. Some dance to remember, others to forget (Hotel California).
238. Some are willing to do anything, except to live here and now (John Lennon).
239. A lie in two words: I can not (Joaquin Sabina).
240. Who wants to live forever? (What in).
241. In the end, the love you receive is equal to the love you give (The Beatles).
242. I prefer to want to be able to, to touch to step, to gain to lose, to kiss to parade, and to enjoy measuring.
Fly to run, make to think, love to love, take to ask.
First of all, I am a supporter of living. (Serrat)
243. They say that shyness is a form of selfishness (Mika).
244. I love you with lemon and salt, I love you just like you are, you do not need to change anything. (Julieta Venegas).
245. Everyone has their problems, it's a matter of seeing how they solve them "(Sum41)
245. Life is a prison with open doors (Andrés Calamaro).
246. Do not criticize what you can not understand, and give way to new ones if you can not lend a hand (Bob Dylan).
247. For your love, I only have eternity (Juanes).
248. All we need is just a little patience (Guns n 'Roses).
249. I will love you and make you feel. That every day I choose you again. Because you give me your love without measuring (Axel Fernando).
250. Do not ever say that I just walked away. I will always love you. (Miley Cyrus).
251. Look me in the eyes, this is where my demons hide (Imagine Dragons).
252. I love you from the first moment I saw you and long ago I looked for you and I already imagined you like that (Franco de Vita).
253. I have the most beautiful memories of the history that I heard in my life (La Oreja de Van Gogh).
254. It's a pardon of the death penalty two minutes too late Is it ironic … Do not you think? (Alanis Morissette)
255. When love comes like this in this way, you do not even realize it. (Simón Díaz)
256. How small is the universe how could you fit there? (Supersubmarina).
257. Today you will conquer the sky, without looking at how high is the floor (Baby).
258. Love, I tell you love and it sounds different. (Miguel Bosé)
259. Today is a normal day but I'm going to do it intensely (Juanes).
260. And that all your laughter will win that pulse to the pain (the song of the Fool).
261. If we are going to be clear, I will not believe in anyone (SIA).
262. I should have left the phone at home because this is a disaster (Lady Gaga).
Phrases for Instagram of rap
Precisely with the phrases of music is how I discovered that rap is much deeper than I thought and that its lyrics are most times a criticism of society. Each rapper has a very personal way of explaining life. I'm not a super big fan of rap, I do not listen to much, but I must say that there are many phrases for rap Instagram. Do not you believe it? Check it yourself.
Here are the phrases I've read the post on Instagram that come from rap songs. Let's see how many you recognize. Note: do not let the vocabulary hurt sensitivity, is part of rap.
263. God gave you the shoes of your size, so put them on and take them.
Be yourself and be proud to be like that.
And although it sounds corny, never let them say that you are not beautiful.
(Eminem)
264. People with a career serving hamburgers? A decent job, yes, but it does not compensate. (Sho-Hai)
265. Do not give me a good morning, okay? give me your best nights. (Xhelazz)
266. I adjust to life, but life is not fair, who I like does not like me and who loves me I do not like it. (Juaninacka)
267. One minute is an opportunity and a micro is a too much responsibility. (Lyric)
268. I have a pact with the rhyme, she cheats me, I pamper her on the stage and we go together to the top. (Zatu)
269. I love you so much that if you do not want me to love you I do not love you … That's what love is called. (Frank-T)
270. Remember who is right for you, of the one who gives you and does not have, who knows what you want and respect your way of being. (Tito)
271. They walk around the world as if they have more than enough and they do not lack anything because they do not crave for gold. (Zpu)
272. I collect feelings that I find on the ground. (Xenon)
273. I do not know what you're waiting for if time does not wait for anyone. (Serra)
274. If you see only with your eyes you are blind. (Frank T)
275. Think about that and pass me the joint, you would remove the record of your life with the phrases that I delete. (Me what)
276. People think they know everything and we do not know anything. (Falsalarma)
277. Do not look for intelligent life in other fucking planets, look for it first on Earth. (Insulin dependent)
278. Tell me, grandmother, that you are among them which of all the stars that shine is the good one. (Meko)
279. I feel free when I write, shine when I flow, clothes with style and scars with pride. (Locus)
280. I do not see God but all God sees me. (Violadores del Verso)
281. 281. We will not teach you anything you do not know, or anything you do not want to learn. (Lyrical)
282. He who is not racist with you but with another is racist,
You will see that he will be racist with you when you have a problem with him. (Frank-T)
283. We are the chosen ones, we have the note of those approved with the face of the suspended ones. ( Double V)
284. One minute of my time is gold, but I do not mind giving gold to whoever I want. (Tote King)
285. No, sir, the problem is not immigration, it's education, being different is not being inferior.
286. They say that I act like a man, it is that I am. (J. Cole)
287. I'm going to drink myself up to the treetops, I'm going to take everything but decisions. (Kase O)
288. Keep me in your heart and do not forget that I died when I lost you because you were my life. (Zenit)
289. Drunk in public, a man in private, pleasure is not a sin, I have explained it. ( Double V)
290. In life everything is bad faces, angels dream of having sex, men have wings. (Xhelazz)
291. The more you take off, the more I wear. (Lyrical)
292. I do not sell myself even though they pay me, I put a padlock on my pride and I swallowed the key. (13TH Street)
293. The fronts are the only ones that do not enter my house, but they do not get stuck,
they are given a book, to see if it happens to them "(Nach)
294. If our love were you, I would buy you chocolates, as it is only sex, you buy the condoms. (Flowklorikos)
295. My dreams are lies that will one day cease to be. (Nach)
296. You are so poor that you only have money. (Tote King)
297. It seems that no, but the beautiful ones also farts, also the smart ones add with the fingers. (Double V)
298. I am an ordinary person, but I am paid for it. (Lil Boosie)
299. Sometimes it is better to close your mouth and look idiotic than open your mouth and show that you are.
300. Criticize my life when yours is an example. (DuoKie)
301. I'm not Jasmine, I'm Aladdin. (Roman's Revenge)
302. Why be a king when you can be a God. (Eminem)
303. Money is the answer to 99.9 percent of the questions. (Vanilla Sky)
304. A lie and I question all your truths. (Kase.O)
305. Eyes that do not see, heart feels double. (Able)
306. Nothing can stop me, I'm on my way. (Fat Joe)
Movie phrases Instagram
Like the songs, the films also leave us mythical phrases that can help us create suspense or interest in our Instagram profile. You can be more or less in agreement with what they say, or use them to start creating a discussion on some topic or the movie itself. Did you ever use a movie phrase?
Here are the movie phrases Instagram that I like the most:
307. The past may hurt, but, as I see it, you can either run away from it or learn. " (Lion King)
308. Good morning, princess. (Life is Beautiful)
309. Only if you find peace in yourself will you find a true connection with others. " (Before Dawn)
310. There are no unanswered questions, only poorly formulated questions. (Matrix)
311. Life goes too fast. If you do not stop and look around from time to time, you can miss it. (All in one day)
312. There are three ways of doing things: the right one, the wrong one, and mine. (Casino)
313. All opportunities mark the course of our lives, including those we let go. (The curious Case of Benjamin Button)
314. Today is the first day of the rest of my life. (American Beauty)
315. After a while, you will learn to ignore what people are calling you and learn to trust who you really are. (Shrek)
316. If you want a friend, buy yourself a dog. (Wall Street)
317. Never let anyone tell you that you can not do something. (Looking for happiness)
318. It was not the planes, it was the Bella that killed the Beast. (King Kong)
319. It's what you do now that can make a big difference. (Black HAwck)
320. We are what we choose to be. (Spider-Man)
321. Keep your friends close, but even closer to your enemies (The Godfather 2)
322. After all, tomorrow will be another day! (Gone With the Wind)
323. I do not remember forgetting you. (Memento)
324. It's our choices, Harry, that show what we are, much more than our abilities. (Harry Potter and the Chamber of Secrets)
325. Leave your problems at the door. Here, life is beautiful, girls are beautiful, even the orchestra is beautiful. (Cabaret)
326. That is what those who live in these times want but it is not up to us to decide what time to live, we can only choose what to do with the time that has been given to us. (The Lord of the Rings: The Ring Community)
327. I do not want to need you … because I can not have you. (The bridges of Madison)
328. Never let anyone make you feel that you do not deserve what you want. (10 reasons to hate you)
329. Why do you insist on being like others, if you were born to stand out? (A dream for her)
330. You can not live your life for other people. You have to do what is right for you, even if you hurt the person you love. (Noa's diary)
331. Carpe diem. Take advantage of the day, make your lives extraordinary. (Dead poets society)
332. As for me, I still believe in paradise. However now I know that it is not about any specific place. The important thing is not where you are going, but how you feel the moment you become part of something. And if you find that moment, it's forever. (The beach)
333. I am not bad, they have drawn me like that. (Who cheated on the roger rabbit)
333. And now I know what I should do, keep breathing, because tomorrow will return to dawn and who knows what the tide will bring. (Castaway)
334. Do it or not, but do not try. (Star Wars: the empire strikes back)
335. Seeing the world, facing dangers, crossing walls, approaching others, meeting, and feeling. That is the purpose of life. (The Secret Life of Walter Mitty)
I feel that this is the beginning of a beautiful friendship. (White House)
333. Foolish is the one who does nonsense. (Forrest Gump)
337. Great men are not born but are made. (The Godfather)
338. You can not live your life to please others. The choice must be yours. (Alice in Wonderland)
339. A power carries a great responsibility. (Spiderman)
Even if you do not believe it, some movies have much deeper messages than we think.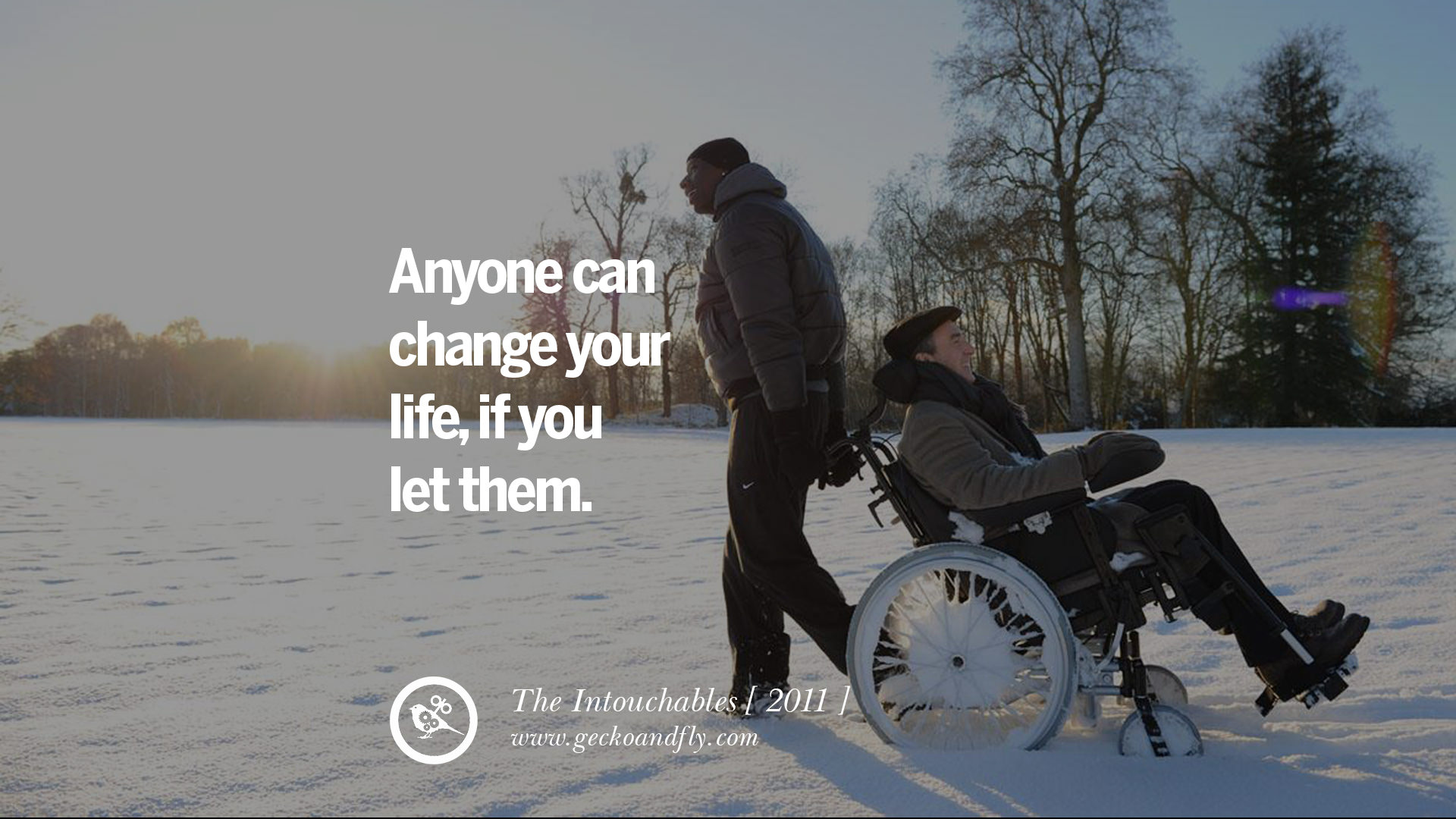 Read More: